Vantastival is a gloriously independent, award-winning festival which takes place at Beaulieu House on the sloping banks of the river Boyne. Music fans and campervanners flock to this unique family-friendly event for its fantastically diverse line up, super-friendly vibes, and quirky extras. Other attractions include gourmet food stalls, festival traders, scheduled kids' activities, arts, crafts and many other fun and novel additions, ensuring that Vantastival has something for everyone, with or without a campervan!
Campervans are welcome to park on site (right next to the arena) at no extra charge, but you don't have to have a campervan to enjoy all that's on offer and there is a dedicated tent campsite for those without vans! Our 'Bring Your Own Booze' policy also means that Vantastival is one of the most affordable festivals in Ireland.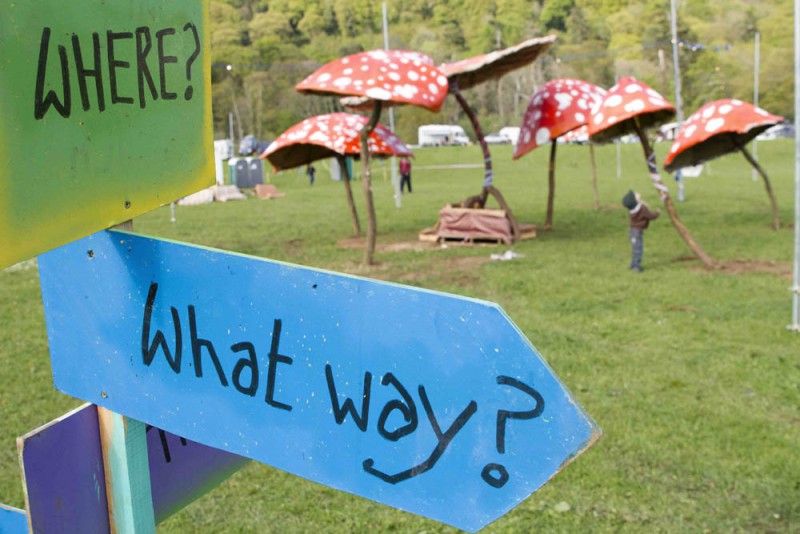 The festival site will be open from 12pm on Friday 16th September for those with 2-day camping tickets. The car park will be open from 10am that day. The car park and box office will close at 11pm on Friday so all visitors coming on Friday must arrive before then. The box office will be open from 10am to 10pm on Saturday 17th. WE DO NOT HAVE CREDIT CARD FACILITIES ON SITE AND CAN ACCEPT CASH PAYMENTS ONLY FOR TICKETS PURCHASED AT THE BOX OFFICE.
Beaulieu House is just a 5 minute drive from Drogheda, or 10 minutes from Drogheda Bus Station. If you need a taxi:
East Coast Cabs – 041 984 4498 / 041 981 1198 / 086 838 4444
Elite Cabs – 041 9833398
Drogheda Taxi Cabs – 085 116 6969
Make sure to quote Vantastival when booking!
Full directions on how to get to Beaulieu House if driving can be found on our venue page.
Tickets will be exchanged at the box office for wristbands.
In order to make this festival as affordable as possible, it is a BRING YOUR OWN BEER event. Cans of beer are welcome, no glass bottles are allowed on site. Please transfer everything to plastic bottles before heading to the festival. Our festival bar will stock a range of craft beers and cider from O'Hara's Craft Beers, as well as a good selection of spirits. The bar will also sell cans of beer. Under 18s must be accompanied by a parent or legal guardian, who will have to sign accepting responsibility. Anyone under the age of 18 drinking alcohol, along with their accompanying adult, will be asked to leave the event. Proof of age is required for minors and accompanying adults.
The car park is adjacent to the festival site and will be well signposted. For safety reasons we cannot allow patrons to drive cars into the campsite to unload their belongings, but even if you have to make a couple of trips from the car, it should only take a few minutes. Absolutely no camping will be permitted in the Car Park. No sound systems will be permitted in the car park and anyone attempting to operate a sound system here will be asked to leave the site.
There are various camping areas on the festival site. For health and safety reasons, campervan camping is separate from tent camping. Absolutely no vehicles are permitted to drive into the tent campsite. There is a family campsite which will be subdivided into a tent area and a campervan area. Saturday Ticket holders can camp overnight if they wish.
On arrival, campervan and caravan drivers must leave their vehicles while exchanging tickets for wristbands at the box office. Once on site, campervans must remain on site – vehicles leaving the site during the weekend will not be re-admitted. After exchanging tickets for wristbands, caravans may be pulled to the campsite by car, then the car MUST BE REMOVED to the Car Park.
Toilets will be dispersed throughout the site, as will drinking-water dispensers.
Due to the unpredictability of fuel supplies and cost, this year we will not be providing electric hook ups to caravans/campervans. At just two days for the event, a leisure battery should suffice in your camper.
There will be a range of food and drink stalls open all weekend which should cater to every taste. For a full list of this year's food vendors visit our trader page.
If you have any special needs or are accompanying someone with special needs, please email us directly at info@vantastival.com.
Dogs are allowed to attend Vantastival in the company of their owners. We are one of the only camping festivals in Ireland that allow dogs, and we depend on their owners to be responsible so we can continue doing so. If you are bringing your dog, please ensure it is kept on a lead at ALL times – no matter how friendly or well-behaved it is – and bring enough baggies to clean up after it. Remember, not everyone is a dog fan and be sensitive to those who may be afraid of your pooch!
We also request that for the safety and well-being of all our four-legged friends, please don't bring them into very crowded and loud spaces, especially after dark.
Tickets – Don't forget to bring your e-tickets. They can be scanned from your phone so keep them handy. And if you haven't got yours yet get them now from www.vantastival.com/tickets 😃
Tent – Something solid, avoid buying cheap camping gear, as cheap tents and chairs break and tear and end up in the tip after only a couple of uses. Think about investing a little more money in a better tent that will last you years or ask a friend to borrow theirs if you can't quite yet!
Sleeping bag – a warm one. The weather can get very cold at night. Camp mat recommended.
Rain gear, wellies and extra socks – plastic ponchos are single use items so please don't bring them. Everyone has a rain jacket, it's Ireland after all!
Reusable Water Bottle – There will be drinkable water points throughout the site to fill up your bottle. Please avoid bringing excess plastic to site.
Reusable coffee cup/ mug – we highly encourage bringing your own eco cup or mug to use throughout the event as this minimises the number of purchased coffee cups going into circulation and thus landfill, even though they'll be compostable this year, each one less makes a huge difference!
Cash – we won't have any ATM's on site so make sure you bring enough money for the weekend.
Torch – your phone's battery won't last if you keep using it as your torch all weekend so we also recommended to bring a …
Portable battery pack – always good to have a backup!
Sun cream, Sunglasses and Sun Hat – we like to be optimistic about the weather! 😎😎😎
Ear plugs & Ear defenders – Protect your and your little ones ears!
Ashtray – if you're a smoker bring a portable ashtray with a lid to carry with you. Please don't drop cigarette butts on the ground!
Rubbish bags – to keep your landfill waste and recycling separate!
Beer or tipple of your choice
*** We highly recommended checking the weather before the weekend so you'll know exactly what to expect and have a better idea of what to bring from the above list! ***
Download our Green Policy here → Our Festival, Our Planet – Vantastival Green Policy 2022