VANTASTIVAL 2018 WILL HAVE A RANGE OF FOOD OPTIONS TO SUIT EVERY TASTE AND A HOST OF FESTIVAL TRADERS SELLING CLOTHES, CRAFTS AND MUCH MORE!

In addition to the on-site food stalls, we have stalls selling clothes, arts and crafts, jams and chutneys, jewellery, campervan accessories, sheepskins and much much more!
Please note we do not have ATM facilities on site and all stalls accept cash only.
Tickle your tastebuds with our fantastic range of food stalls at Vantastival 2018:
Vegan and vegetarian options will be advertised by individual stalls.
Beshoff's Fish and Chips: classic fish and chips from an outpost of the renowned 3rd generation Dublin chipper.
LaLa Poutine: it's the Canadian staple that's taking Irish festivals by storm.  Try a poutine: home cooked fries with a mix of gravy, cheese and slow-roasted meats.
Mke Nyumbani: Lashings of Kenyan goodness from the queens of African cuisine, including hearty big platefuls of rice-based dishes and other East African favourites, like mouthwatering Mandazi (Swahili coconut donuts).
Jaru: South Korean Barbecue, marrying sweet, salty, spicy and pickly flavours for an Asian (and healthy) take on Barbecue cuisine.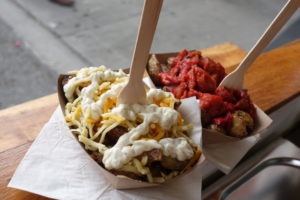 Home Fries: Ferdia's vintage van, featured recently in The Irish Times, serves up crispy pan-fried potatoes with a range of toppings, including pulled pork, chorizo and red pepper and piri piri sauce.
Silverline: Burgers, chips..all the classics from this top-notch chip van.  Go on, you know you want to!
Marco Crisps: freshly fried spiral-cut potatoes, crisped to perfection in front of your very eyes.
The Crepe Box: a classic range of sweet and savoury crepes served all weekend.  Bon Appetit!
Add in coffee for your tired head courtesy of The Brew Crew, sweet treats from The Donut Trike and Ben's Ices, and a prosecco stall, Fizz Bizz, and your festival refueling needs are covered!