As always we will have some new and exciting features for Vantastival 2018 while some of the favourites from previous years will make a welcome return!
Details of 2018 features will be updated over the coming months. Featured at Vantastival 2017
The Volkswagen Campervan Cook-off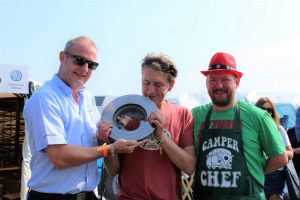 Our favourite cooking competition is back, and once again it is kindly sponsored by our festival partners Volkswagen Commercial Vehicles! Better than the Bake-off and Masterchef combined, the Campervan Cook-off is a 'Ready, Steady, Cook' style competition where contestants are required to cook a two course meal from the ingredients we provide, using only the cooking facilities in their campervans! <br/ >This year participants competed for a Volkswagen brake disc trophy and goody bag. <br/ >
Culture Vultures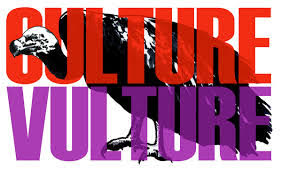 We are thrilled to welcome Culture Vultures to Vantastival this year for the first time.
What is Culture Vultures? It's an as-and-when-required 'salon'-themed pop culture event,  curated/hosted/presented by Tony Clayton-Lea. It consists, essentially, of words and music.
The 'words' part features a public interview, and there is also some form of spoken word and music in the blend.
Culture Vultures makes regular appearances at Irish music and arts festivals as well as popping up at bespoke events. Culture Vultures at festivals is a different, snappier affair than it usually is in a venue with four walls and a roof: it's more jam-packed, because we take into account that the more people we have on the line-up the better it is to grab festival goers' roaming attention spans. The other benefit of Culture Vultures at festivals is that it provides something a little bit different for the curious festival goer to experience.
Tony Clayton-Lea is an Irish-based freelance journalist/writer/editor who writes mostly on music, pop culture, film and travel for a variety of print and online outlets. Of the former, he writes predominantly for
The Irish Times
, specifically for its Arts pages and its weekly music/movies/pop culture supplement,
The Ticket
. He also contributes regularly to the arts/book pages in the
Sunday Business Post
Magazine. <br/ >
Culture Vultures at Vantastival featured Frankenstein Bolts, Mark Geary, Nix Moon, and Orchid Collective.
Juicebox Comedy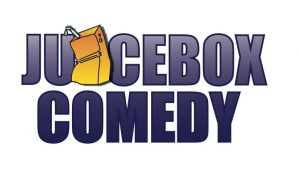 Juicebox Comedy returned to Vantastival this year in to the bar tent from 6-7pm each evening, and brought with it some belly-aching laughs. <br/ > This year's featured comedians included: <br/ >
Tomie James   –   Tommy Nicholson   –   Michael Downey   –  Andrew Gilmore   –   Aidan Shields
<br/ >
Find out more about Juicebox Comedy here.
Ringo: Music Bingo
 
The world's great music-intro-comedy-game-not-quiz
<br/ >Dust off those air drums, warm up those funny bones, and get your pun moans warmed up – Ronan returns to Vantastival after a great set of gigs in 2015! <br/ > A hit at music festivals, pubs, staff parties and even weddings, it's Ringo: Music Bingo. <br/ >Ronan plays the intros to well known songs, if that band is on your sheet you cross them off (it's a game, not a quiz, he gives you the answer via comedy clues) first to fill the sheet wins prizes! <br/ >Ringo: Music Bingo, it won't change your life but it will make your day <br/ >Family Friendly.
Jack Cody's Brewery
Our bar this year is sponsored by the good folk at Jack Cody's Brewery, and will be stocked with a range of craft beers brewed just down the road from Beaulieu. You can't get any more local than this!
<br/ >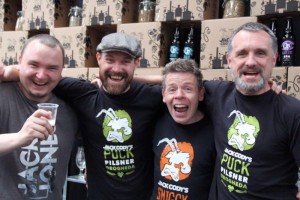 Jack Cody's Brewery began commercial brewing in Drogheda Co Louth in 2014 and now produces a range of 9 top quality craft beers –All Hops and No Slops! Brews in the range include core beers ; Hibernicus IPA 5.2%, Smiggy Amber Ale 4.8%, Puck Pilsner 4.5%, Lazy Eye IPA 6.3%, Duxie Grapefruit Tea Pale 5% and Blackjack Drogheda Cream Stout 4.6% and seasonal beers Curly Hole 4.5% , Hail Glorious St Patrick Extra Stout 6.3% and Lunasa Summer Saison 5% Each brew has its own distinct personality and flavour profile. <br/ >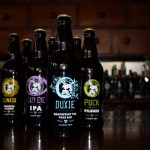 Popular with beer goats and bearded ladies alike, Jack Cody's craft beers have gone from strength to strength since their launch, having won 7 awards at the 2015 Killarney Beer Festival and silver and bronze medals at the Dublin Craft Beer Cup 2016. <br/ > Get in touch @jackcodys or "Jack Cody's" on Facebook & Untappd."
Laugh with Louise – Laughter Yoga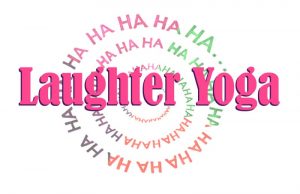 Laughter yoga (Hasyayoga) is a practice involving  prolonged voluntary laughter. It is based on the belief that voluntary laughter provides the same physiological and psychological benefits as spontaneous laughter. Laughter yoga is done in groups with eye contact and playfulness between participants. Not only does it increase happiness, but it also strengthens the immune system, reduces pain and lowers stress. Laughter triggers the release of endorphins, promoting an overall sense of well-being.
Solas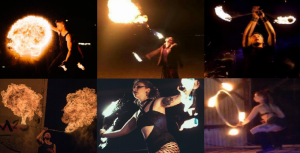 We are Solas. We provide a pyro performance to mesmerise any audience, big or small.
Using a number of different props and techniques, we heat up the mood at festivals all over Ireland, including EP; Body&Soul; Knockanstockan; BARE; Townlands; and many more.
With a combined experience of over 20 years between 6 of us, fire is our passion and hopefully we can make it yours too!
Bóhann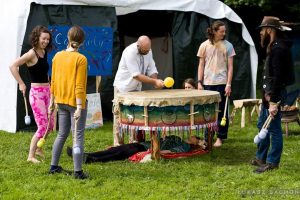 Come and meet Bóhann  our Community Drum and drum the rythm off your soul. Feel the beat rise the beautiful energy within or if you prefer lay beneath her and let her align you're energy field.
DFEi Music Stage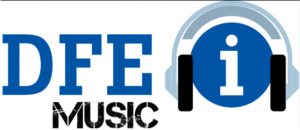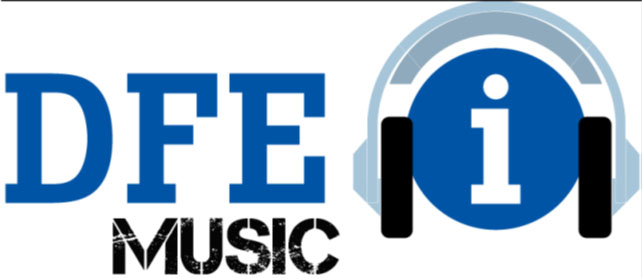 A mix of DFEi Music acts took their own stage by storm, with the college's best running the sound desk, booking and performance all weekend long.
DFEi Music's stage has been a cracking musical romp in the past, so it's no surprise that Vantastival have been delighted to continue to work with the crew @ DFEi Music for the past three years.
DFEi Music was originally set up to bring education to life so that the learner could understand the industry and grasp it themselves.  DFEi Music is the record label of DFEi, and each year learners record, produce, design and master an album release as a core part of their course content.  Visit
dfei.ie
, follow us on Facebook or listen on Soundcloud.com.
Sobek Moon Drum

Moon Drum is a steel percussion instrument which produces soothing otherworldly sounds, handcrafted locally in Co. Wicklow. Join Marcin in his bell tent and participate in open music workshops withe the moon drum as well as African drums, didgeridoos and more percussion instruments. 
<br/ > <br/ >
Stay tuned for updates on more festival features for 2018!
General Info » Buy Tickets » See the Lineup » Contact Us »
"for one weekend only Louth becomes home to a treasure trove of unheralded Irish musicians…" –  AU Magazine