Firestone Line-up REVEALED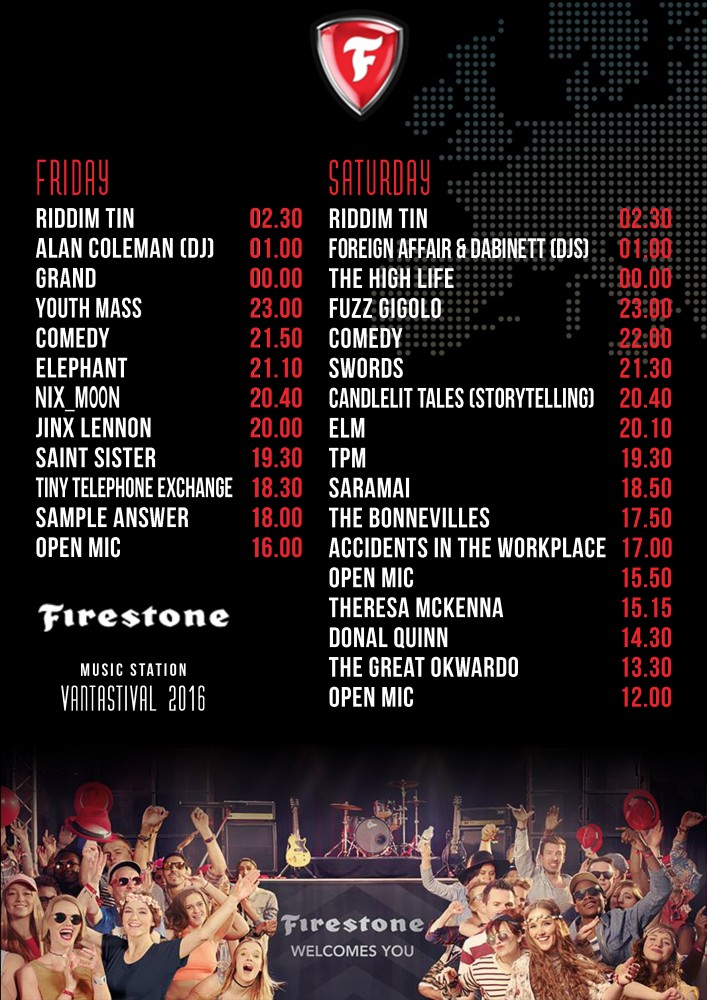 We can't wait to hear the sounds of our local acts on the Firestone music station.  
The station will give some of the acts from our main stages the chance to do acoustic sets over the weekend but it will also showcase a host of local talent.
Welcoming on Friday night…
Grand; hailing from Drogheda, a melting pot of influence ranging from Blues to Ska, Reggae to Swing, with deep roots in Gypsy Folk.  After an incredible performance at Vantastival in 2015 we'll be there dancing to their new track 'The thrill of the chase'.  Listen on their facebook page: https://www.facebook.com/grandbandlads/
Youth Mass; an indie band from Meath influenced by Bloc Party, Interpol and M83.  Playing tracks from their debut album Morning Run | Evening Sun.  Can't wait to hear their new single played live; Tony: Don't you worry.  Check out their music at http://www.thisisyouthmass.com/
and as Friday morphs into Saturday….
The High Life, and acoustic rock band with percussion on cajon and bongos.  Elements of reggae, blues and pop all crowd in during their energising live performances.  Check out their sounds and their 2013 Vantastival performance at http://www.thehighlifeofficial.com/
Fuzz Gigolo; our neighbours from Drogheda;  are a "LO­FI Rock n' Roll" band best described as a stylist dance tempo'd quintet.  Their debut EP conveyed a fresh and vibrant sound.  Check out their live show on Saturday night and have a listen at http://breakingtunes.com/fuzzgigolo
Theresa Mckenna, a singer/songwriter from Beaulieu, Drogheda.  She has just released her first solo E.P, a fusion of rock pop, soul and folk with a passion for theatrics and dramatic lyrics.  Influenced by Lady Gaga and Freddie Mercury she'll be putting on an unforgettable performance on Saturday afternoon.  Take a look at her on her facebook page on https://www.facebook.com/Theresa­McKenna­315345905144140/
Donal Quinn the 'Homegrown Hero' of Today FM is new, fresh and exciting in the music scene.  Hailing from Drogheda he'll be playing indie dance music for your pleasure on Saturday afternoon.  Catch up on his music on https://soundcloud.com/donalquinn
The Great Okwardo; an eight piece band all bringing their own style of music and personality.  Their music style can only be described as a mixture between traditional, folk, acoustic rock, alternative and roots.  An entertaining encounter well worth watching.  Check out their sounds on www.thegreatokwardo.com/
See you there dancing, smiling