The Aruna Campervan Cook-off

We are absolutely delighted to announce that this year's campervan cook-off will be sponsored by Aruna Sauces, an award-winning local Louth company who produce a range of artisan sauces.

The Campervan Cook-off will take place in the main arena at Vantastival at 3pm on Sunday 5th May.  The Aruna Cook-off will take the form of a 'ready-steady-cook' style competition. All contestants will be provided with the same ingredients and will be required to produce a two course meal using just the cooking equipment in their camper vans.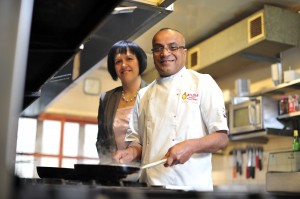 Husband and wife team Sarajit Chanda and Sarah Nic Lochlainn opened Fuschia House Restaurant in Ardee, Co. Louth, in 2005.  The award winning restaurant showcases locally produced food and specialises in authentic asian cuisine.  They then developed a range of sauces based on Sarajit's mother Aruna's traditional recipes and methods. The Aruna Sauces are multi-award winning and had four of the five Dragons pitching for investment on the Dragons' Den in 2012!
This year's Campervan Cook-off competition will have an asian twist, with Sarah and Sarajit providing the ingredients for contestants on the day. Aruna will also be providing the prize, and the competition is bound to be fierce with a hamper of Aruna sauces, a voucher for Fuschia House Restaurant and Sarajit's mother's famous curry recipe up for grabs!
To register as a contestant in The Aruna Campervan Cook-off email louise@vantastival.com.