[one_third]
[/one_third]
[two_third_last]
LE GALAXIE
Le Galaxie have established themselves as Ireland's #1 live dance act with their brand of thundering electro, bursting to life with shimmering cyber-synths and pounding techno rhythms. The debut album, 2012's LASERDISC NIGHTS II, was voted #1 Irish Album of the Year by Entertainment.ie.

Mixed in LA by former DFA Records house engineer Eric Broucek, 2015's LE CLUB combined their signature sound with stunning female guest vocals Elaine Mai, MayKay & Senita Appiakorang. The album was written and recorded in tandem with the bands relentless live schedule, including sellout shows in Ireland's world famous Olympia Theatre, Midem, CMJ, MONDO, Benicassim, Lovebox, Eurosonic, among literally hundreds of other shows.

Frequent collaborator MayKay went full LE GALAXIE in 2017, just as the band signed both a US record deal and an extension to their US publishing deal with Reservoir Music.
The band's third album PLEASURE, produced by Swedish pop mind BLENDE, is Le Galaxie's dream of a truly great studio dance record made manifest. The titular first single PLEASURE was teased in 2017, with a full US and Europe album release in March 2018 to coincide with their SXSW assault and more.
legalaxie.net
[/two_third_last]
[one_third]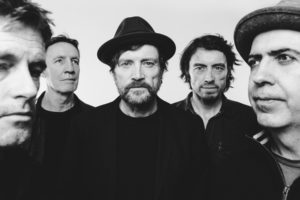 [/one_third]
[two_third_last]
THE STUNNING
The Stunning formed in 1987 in Galway, Ireland. They had their first top twenty single a year later and two more top ten hits before their debut album 'Paradise in the Picturehouse' hit the number one spot in 1990 and stayed there for 5 weeks. The band's diverse musical influences of alternative rock, soul, blues and country resulted in a eclectic mix that audiences loved. They toured constantly for seven years in Ireland, the US and the UK, releasing a second number one album in 1992, followed by a live album in 1993 before splitting up a year later to pursue other projects. In 2003 the band reformed to promote the re-issue of their debut album and embarked on an 18-date tour which turned out to be one of the highest grossing tours in Ireland that year. Around 30,000 people turned out to see them perform in their old hometown of Galway city in the summer of 2012. 'Brewing up a Storm' has become an unofficial anthem and their debut is consistently voted one of the best Irish albums of all time. The band are on the road again and with new singles receiving extensive national radio play and new album "Twice Around the World" due for release this March, The Stunning are taking the country by storm all over again.

""'Brewing Up A Storm' is still one of the greatest Irish singles ever released and in our humble opinion should replace the dreadful 'Ireland's Call' as our other anthem for International Rugby games." — Joe.ie

"The Stunning pretty much did it all first time around, in this country at least. Paradise In The Picturehouse, their debut, was the first Irish debut album to go to number one and stayed there for five weeks." — Hot Press Magazine

"The Stunning were the biggest band in the country; tracks such as Brewing up a Storm, Heads are Gonna Roll and Half Past Two are still alternative anthems." — The Irish Times
thestunning.net

facebook.com/thestunning
[/two_third_last]
[one_third]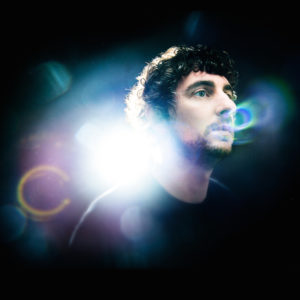 [/one_third]
[two_third_last]
RSAG
Rarely Seen Above Ground a.k.a Jeremy Hickey is a Irish multi-instrumentalist who has gained the reputation as one of Europe's leading drummers.
He's been hand picked by various international acts including Grammy Award winning Xavier De Rosnay (Justice) and Cosmo Vitelli (I'm A Cliche label) as well as leaving an explosive trail on festival circuits at home and abroad.
R.S.A.G. has been making waves since 2008 as one of the countries most talented solo artists with his organic, electronic, percussive sound. Live he experiments with a virtual band while his drums, vocals and sampler are mixed with an array of hypnotic imagery and silhouettes projected on-screen.
rarelyseenaboveground.com
[/two_third_last]
[one_third]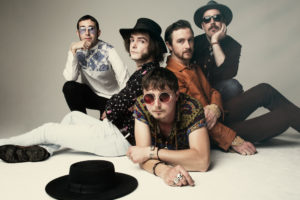 [/one_third]
[two_third_last]
THE HOT SPROCKETS
Take some good-time revolutionary spirit, add a pinch of psychedelic flavour, simmer it down with some Indie Soul and you are somewhere close to the cosmic vibe of The Hot Sprockets, five blood brothers from Dublin City, drawn together by their mutual love of Rock 'n' Roll.
Performing live, the Sprockets' take-no-prisoners, white hot, bone-breaking approach has lit a fire in men and women of all tastes and flavours, captivating audiences with numerous successful tours across the USA, Canada, UK, and Europe.
Their inherent ability to get the party started wherever they go has led them to take stage at festivals such as Glastonbury (UK), Latitude (UK), Kansas City Irish Fest (USA), Eurosonic (NL), Zwarte Cross (NL), Ebrovision (ES), Fuzion (DE), Indie-Week Toronto (CAN), Electric Picnic (IRL) and countless others around the globe.
Volkswagen, Heineken, AIB (Allied Irish Banks), Bulmers (aka Magners), and Today FM are among some of the companies which have used their songs for major ad campaigns, both in Ireland and further abroad. They have also been featured on National TV countless times here in Ireland and have graced TV stations in the USA, Europe, UK, and Australia.
With two critically acclaimed albums under their belt, Honeyskippin', and Brother Nature – the second of which shot straight into the top 10 of the National Irish Charts – the Sprockets are gearing up towards the release of their third album "Dream Mover", due out on April 6th 2018.
Produced and recorded by Dave "Skip" Christophers, and mixed by Charlie Russell (Jamiroquai, Kasabian, The Strypes), listeners can expect to hear an earthier soulful psychedelic side to the Sprockets. Sonically, this album marks a huge leap forward for these independent rockers!
Having already unleashed "Right Spots" – the first single off their eagerly awaited third album – and with two more singles and corresponding videos on the horizon, anticipation grows, as Dream Mover is due to have audiences revelling in the classic hooks and sounds the Sprockets are cherished for.
thehotsprockets.com
soundcloud.com/thehotsprockets
[/two_third_last]
[one_third]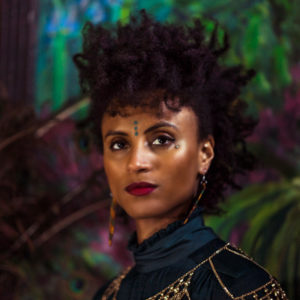 [/one_third]
[two_third_last]
LOAH
Loah is Sallay-Matu Garnett, an artist of Irish / Sierra Leonean origin who grew up between Ireland and West Africa.
She's embarking on an ambitious solo career, combining her unique blend of genre-bending Afro-soul which she calls "ArtSoul". In what has been a phenomenal first couple of years in action, she has released several stunning singles/videos ("Nothing – from the debut EP This Heart – "The Bailey", "Cortege" and "Take It" with Irish producer Bantum) and co-written with Hozier "Someone New") amongst others.
She's sold out numberous headline shows in Dublin and abroad, appeared at Electric Picnic, Body&Soul, Longitude, Cork Jazz Festival, Sounds From A Safe Harbour and the Dublin Fringe Festival, the CCI in Paris and performed with the RTÉ Concert Orchestra and Glen Hansard in the National Concert Hall, Dublin Castle and Vicar Street.
Having just made her first US appearances at SXSW and New York, she released her long-awaited debut EP This Heart in June 2017 along with a string of high-profile festival appearances and a winter Ireland and UK tour.
breakingtunes.com/loah
[/two_third_last]
[su_spacer size="10″]
[su_spacer size="30″]

[su_spacer size="10″]